APPLICATION

1.) give us a picture of you supporting peace/anti-war- be creative! it could be as simple as giving the peace sign with your hand, but COME ON! get creative!! want an example? my user picture for this community is a perfect example! YES!-your face MUST be in the picture! dont be shy!- show who you are!! the picture CAN be a link...but no webshots links, only photobucket links. thanks
I have to explain this one because at first glance it doesnt make sense. In this picture I am on the phone with my Friend oscar...in the military at that time posted in china. He is on the Nimitz and may be coming back soon. You may or may not consider this "supporting" peace and anti-war...but it's supporting our troops...and he just wants to come home...and if that isnt supporting peace then I dont know what is. <3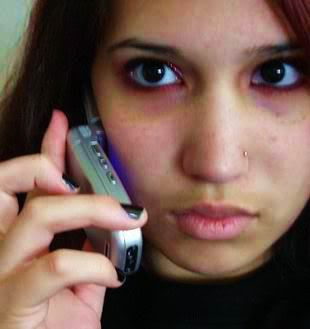 2.) create you're own motto for peace- be creative. dont take any one elses, and it cant be a quote. like here is mine- "we die for war, but no one dies for peace". its a MOTTO, so make it short. even if its simple or dumb. "Will you join my war? My war for peace?"

3.) tell us WHY you support world peace and anti-war causes. once again- it doesnt need to be long. I'm not sure about world peace, I believe a completely peaceful world is impossible. Maybe warless, but we will always have our conflicts, and we will always have our standoffs. I am antiwar because I know the after affects to well, I know one WW2 veteran, my uncle who died recently was a korean veteran, and I know 20 or more vietnam vets who are alcoholics, cripples, mentally disabled etc and who will never be ok. It wasnt worth it. And it never will be.

4.) where did you find this community?</b> In an interest search under "anti-war"

5.) effective 3/31/05 you must promote us someplace and leave us the link. My Promo

<3 always Linzi...